While you're here, we ask you to share TheOfficeChat with your friends at Facebook, Twitter, Tumblr etc. This helps bring in visitors! Thanks!
*When you enter TheOfficeChat, you agree to these rules: General Rules | Trivia Night Rules | Cast Chat Rules
*This is a flash chat, so you must have Adobe Flash on your device.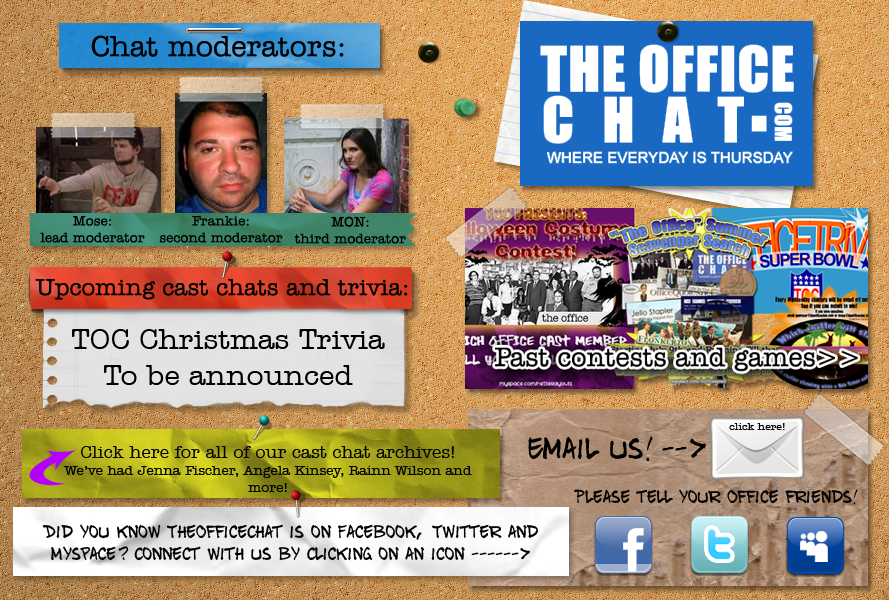 Are you a cast member of "The Office"?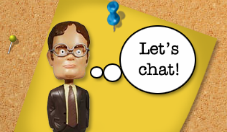 If you're a cast member of "The Office", we would be delighted to have a moderated chat to discuss your upcoming projects or "The Office" show. We've had almost every cast member of "The Office" in our chat. Our most recent chats were with Melora Hardin and Kate Flannery.
Our chat is so easy to use! You can use our chat on almost any computer, cell phone or device. As long as your device has Adobe Flash, you're ready to chat!
If you've been here before, we would love to have you back!! Don't remember your username and password? No worries! Our Admin has them safely stored. To set up a chat, please contact us on one of these social networks from your account, that way we know it's you: Twitter(message us), Facebook(write on our wall) or Myspace(Message NettesLayouts). Thank you so much for stopping by!
About the founder and owners: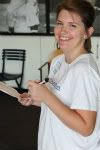 During the airing of the third season of "The Office" the show developed a huge fanbase throughout the internet. This stemmed greatly from the fact that many of the cast members interactively communicated with their fans using their own Myspace fan pages posing as the characters they play on TV. They would provide updates through their blogs giving fans their own personal insight into the behind the scenes world of the sound stage, as well as giving fans a glimpse into their personal stories and ventures. They would give their episode thoughts, offer fans contests, and even interact directly with the fans themselves! Fans would soon find that they were not only interacting with the cast, but were heavily interacting with other fellow fans as well. Fans began creating Myspace pages on which they blogged about the show, and created activities such as contests involving "The Office". In early January of 2007, one of these fans decided to take it a step further. Sarah Smith, a wife and mother with two daughters, from Sugar Hill, Georgia created TheOfficeChat.com as a place for fans to interact with each other. The chat site was a place set specially aside for fans to discuss the show. As fans grew to know each other, they could also discuss nearly anything on their minds. Whether it was show topics, or their chat friendships, topics were always fun and lively. Being a busy full time mom, Sarah needed more time to dedicate to her family and had to step down from administering TheOfficeChat. Fans of the TheOfficeChat will remember her great efforts and will always be grateful to her for creating the chat.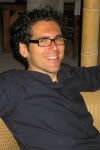 Chat member, site tech, and moderator Aldo graciously stepped in and agreed to maintain the chat site, so as to keep it remaining online. He's been an avid fan of "The Office" since he watched his first Office episode early in 2007. He was responsible for the technical and developmental aspects of the site, as well as hosting it on his servers. In 2009, he asked NettesLayouts.com to merge with TheOfficeChat.com. He did a tremendous job making this a fun place for Office fans to unite. We thank Aldo for taking the lead following Sarah's departure, and appreciate his efforts maintaining the chat at it's best with his brilliant creativity, and technical savvy.
Nette from NettesLayouts.com, acquired TheOfficeChat.com in October of 2011. She has worked with the chat since 2007 making graphics, and helping with chat functions such as contests. She has helped Sarah, and our lead chat moderator Mose, with trivia nights. She has hosted Cast member chats, and even her own trivia. Nette is diligent in making the chat the best it can possibly be. She has always loved the chat, and is a regular on Thursday nights. Not only is Nette a huge fan of The Office, she's a wife and the mother of two young boys. She's a freelance graphic designer, and a full time mommy. In her own words: "I'm a big supporter of TheOfficeChat.com! I think it's a great outlet for fans of The Office to get together and discuss the show. It's a great place to make friends with the same interests!"