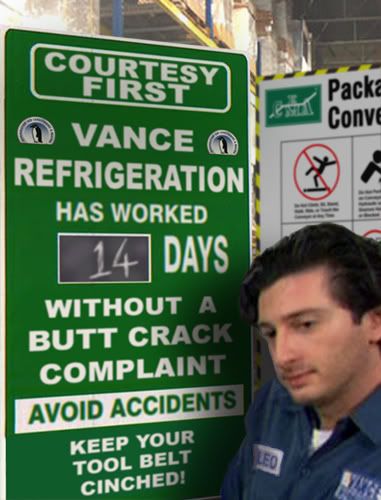 I just wanted to share this amazing picture that Bobblehead Gary made. I think it's so cute and it highlights one of  Bob Vance's workers who happens to be Gene Stupnitsky a writer on , The Office!
I've also added an artist to my site who makes layouts, wallpapers and graphics. I haven't been able to officially welcome her since the big move over to our web site here. Her name is digitalMindy! To see all of her graphics go here. To see her layouts go here.  All of her layouts are in "The Office Layouts" catagory where you get all of the layout codes.
I'm in the process of moving all of the layouts to one page with each of their proper code under them. You have to remember that this site was created on a MySpace page and I had to make a seperate code page for the layouts. So this process of moving all of my layouts from MySpace will take at least a week or longer. Please bare with me during this time as it seems like you're traveling in circles to get a layout code.
Also, all of the Office comment graphics that the Dunderheads make and that I make have been moved to this web site! All of the links are on the right under "Links".  Be sure to leave some comments for all of the Dunderheads who make graphics since all of the blog comments were deleted over at myspace when I deleted all of the blogs! Thank you so much! ~Nette