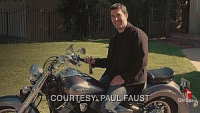 Paul Faust was kind enough to answer some questions that we had about his role as "The Cool Guy" on the recent episode 'The Chair Model' of The Office.
1.What was it like working with the cast of The Office?
~Annie, OH
 It was such an awesome experience working with the cast. They are all extremely funny and talented. They also made it very easy for me…the new guy. Everyone was supportive and helpful. The hardest part was keeping a straight face during the takes.
2. Do you know if you'll be a big part in any future episodes?
~Kevin Lakeland, Florida.
They havent told me anything about future episodes. I would love to come back and certainly hope the write my character back in. They have definately left the door open…but we will have to wait and see.
3.Were you originally an Office fan?
~Johnfan, PA
Yes…I have liked the show since the first season. I havent seen every episode…so I am going back and wathcing the few that I missed.
4.How did you get into the business of Disasters Kit Limited and where can we get one?
~Nette
 I actually started a company called 1-800-PREPARE, LLC. with my partner Gregg Hamerschlag where we sell emergency preparedness kits. Our current site (we are building a new one) is www. 1800prepare. com. I have always like the security/safety/preparedness industry. I was a security consultant for 11 years and also worked in the surveillance/counter-surveillance equipment business. I was also a volunteer firefighter for 7 years. One year with the Larchmont Fire Department and then about 6 years with the Chappaqua Fire Dept.
In fact…I have reached out to a great organization called www. searchdogfoundation. org. I want to take 5% of our profits and sponsor a new search dog. I am hoping they will name the dog DUNDER.
5. How did you end up getting the part of playing yourself?
~Nette
Through some very personal contacts I got to spend the day on the set about a year ago. On the set I met all the writers, actors, crew, etc. One of the writers decided to write the part and sort of used me as the inspiration for the character. They were auditioning actors to play the part and someone suggested they let me read for it. I jumped at the chance and got the part. So basically I did a better job at playing me then the others actors.
Paul
Thank you Paul for taking the time for us fans!
Paul has started a MySpace page to interact with fans! To add him go here.